Diving & Camel Safaris
---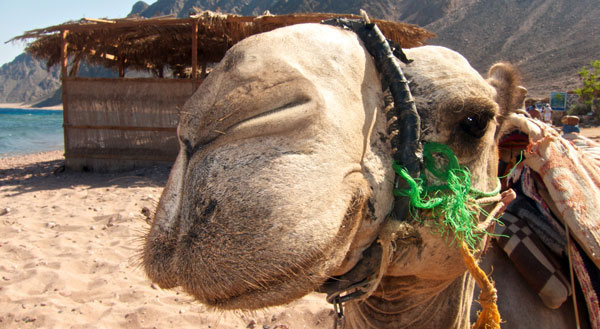 Divers and Camels
If you would like to combine some fantastic diving and snorkelling with a truly unique Dahab experience, then a camel safari is for you.
You may well have done boat diving but diving via "The Ship of the Desert" is something else again!
There are two sites for camel safaris, Gabr-El-Bint (literally, "Tomb of the Girl") to the south and the Bedouin settlement of Ras Abu Gallum to the north. Both safaris follow the same structure which is as follows:
We start early at around 7:30, collect our tanks and gear and head off by jeep for a 30 minute ride to meet with our transport for the day. At the end of the road we rendezvous with the Bedouins and their beasts. After loading up we set off. Ever seen a camel carrying SCUBA tanks? You will on this trip.
The camel ride takes around one and a half hours and takes you along a stunning coastal path where the mountains meet the sea. On arrival we don our diving/snorkelling gear and enjoy some excellent underwater scenery. Lunch is prepared by the Bedouins in the traditional manner before our second dive.
After that, we load up again and head back along the coast to our waiting jeeps. We arrive back in Dahab in the early evening, tired, saddle sore but having had a fantastic experience.