Mt Sinai and St Catherine's Monastery
---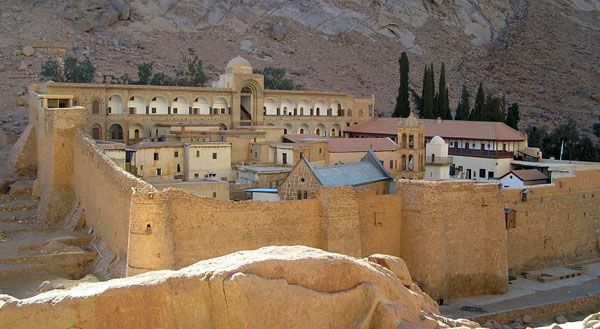 Mt Sinai & St Catherine
Standing at 2,285m (7,497ft) Mount Sinai is mentioned in Jewish, Christian and Islamic religions as the site where Moses was handed the 10 Commandments and the location of the Burning Bush.
Getting to the top is the main objective for most and can take anywhere from 45 minutes to 3 hours depending on your pace. If you are going for the sunrise over the Sinai Peninsula you will be climbing in the dark so be careful, but remember to look up, with no cities for miles around the crisp clear air of the desert make it perfect for star gazing.
Take cash, Egyptian pounds preferably, as you can buy local handmade Bedouin craft goods and if your legs are not up to the climb you can hire a camel – though you will still need to walk the final 750 steps. Just below the summit at Elijah's Hollow or the Seven Elders of Israel, there is a tea house where you can catch your breath before the final push to the summit.
On the way up you will pass St Catherine's Monastery one of the longest-running monasteries in the world (1,700 years) and a UNESCO World Heritage Site. You may even be lucky enough to see a pilgrim candle lit procession.
It is a 2 hour drive from Dahab (3 hours from Sharm El Sheikh), if you want to see the sunrise you will be leaving late evening and climbing in the early hours of the morning. Divers will need to make sure their last dive is at least 18 hours before they depart Dahab.
Info
With the exception of Fridays and Sundays, the monastery can be visited daily between 09:00 and noon.