Boat Diving
---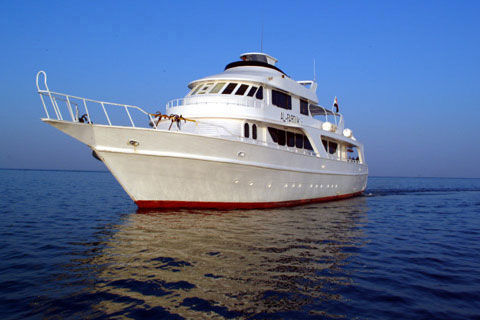 Shore diving is the norm in Dahab, but we do offer one-day boat trips from Dahab to Gabr El Bint and Ras Abu Galum. We also have our own 27 meter dive boat based in Sharm-el-Sheikh and offer a number of regular boat trips as well as private live-aboard safaris.
Listed here are the most popular boat destinations. For groups who wish to arrange their own custom planned safaris we offer live-aboard for 3 to 14 days. Please contact us with group size and preferred itinerary for a price quote.
---

---

---

---

---

The program can include: Abu Nuhas, Rosalline Moller, Thistlegorm, Dunraven, National Park of Ras Mohammed, Tiran Island...
Read More...
---

The program can include: Reef Marsa Alaam, Samdia Reef, Dolphin Reef (Satyah), Ras Samadiah, Haab Sharm (Abu Dabab), Ghadera, Abu Galwa, Elephin Stone (Abu Kizan), Shelinat, Daedalus...
Read More...