Thistlegorm
---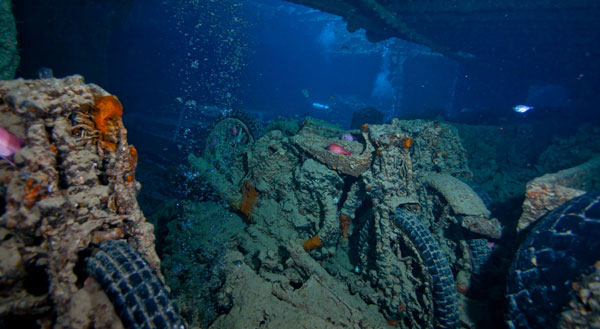 World's best Shipwreck
SS Thistlegorm sunk in 1941. The Thistlegorm was "lost" until 1955 when she was rediscovered by Jacques Cousteau on one of his early explorations of the red sea. She was then "lost" again and only discovered again in 1992 to become the diving attraction she is today.
The wreck is explored over 2 dives, the first is around the wreck, look out for the ships guns at the stern two upturned Bren-gun carriers and lots of Wellington boots. Up to the deck area we find many fish, locomotive rolling stock and the Thistlegorm's huge winches which dive boats use for tying on to.
On the second dive we explore the inside of the wreck, your guide will take you through the holds to see the Thistlegorm's cargo of BSA motorcycles, trucks, munitions and assorted spare parts. Back on the deck area lookout for schools of Bat-fish, large Napoleon Wrasse and even the occasional shark.
A fantastic dive site for wreck addicts and fish lovers alike.
We usually finish the day trip with a third dive in Ras Mohamed National Park.
Info
Given the altitude of the road between Sharm and Dahab, a safety break inside the city of Sharm is required (usually around one hour)