Nabq National Park
---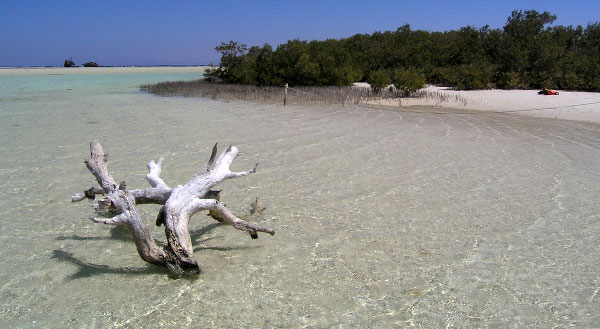 Mangroves Forest of Nabq
Nabq is situated on the coast between Dahab and Sharm el Sheikh. This 600 km2 desert area was declared a conversation area in 1992. Here you can find a 4 km long mangrove forest.
Mangrove vegetation grow in flat, sandy areas along tropical coasts. To overcome the problems with high salinity, frequent tidal inundation and low oxygen conditions, mangrove plants have develop incredible physiological adaptations. So-called stalk roots are tightly interwoven both in and above the water. The roots are able to filter the saline water and salt is excreted via the leaves of the trees.
Nabq National Park is also the natural habitat for a large variety of plant species as well as various birds and animals like storks, herons, eagles, desert foxes and gazelles. The underwater world of Nabq is most impressing.
Come and explore this fascinating, walk through the seashore, swim in its pristine waters and bewitched by the photogenic rests of the old Maria Schroeder's shipwreck.
Info
Open daily from morning to sunset.
Info
Snorkelling close to the wreck is not recommended on windy days