Straits of Tiran
---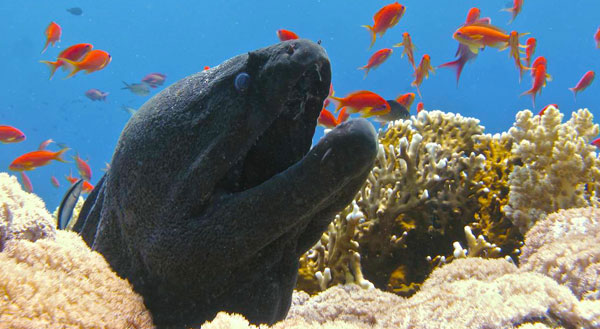 Diving Tiran
Tiran is just one hours sailing from Sharm where we find the reefs called, from south to north, Gordon, Thomas, Woodhouse and Jackson. The reefs are strung across the entrance to the Gulf of Aqaba and almost completely close the gulfs access to the red sea proper. These narrow straits force the tidal water into powerful currents which bring the nutrients that in turn attract the fish and large pelagics which prey on them.
The diving here is fantastic all year round but the best chances of seeing top predators such as Hammerheads and Tiger sharks come in the summer months, other sharks such as Whitetips and Grey reef sharks are also common.
Your crew will decide which sites to dive on the day, determined by wind and the currents. The nature of the dives at Tiran means that this trip is only really suitable for experienced, advanced divers.
Info
Given the altitude of the road between Sharm and Dahab, a safety break inside the city of Sharm is required (usually around one hour)