Secrets of Sinai
---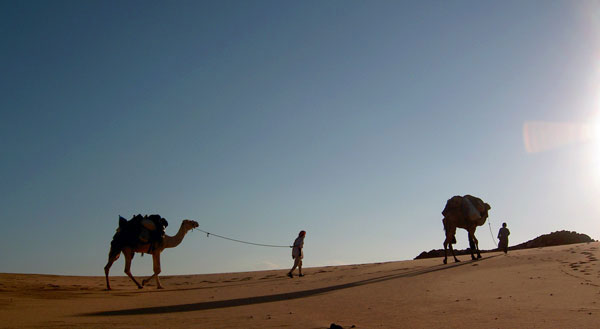 Wadis, Jebes and Oasis
Discover the geology and formations of the land in areas of untouched, natural beauty. Follow time crossing routes and trails. Track down the sights into the history and culture of the region. This eco trip will drive you off the beaten track to the amazing secrets hidden in the Sinai. Everybody can have fun in this trip, and our guide will always choose the best routes according with weather, your own preferences and personal level of fitness.
Day 1: Transfer from Sharm El Seik airport to Dahab, overnight in hotel.
Day 2: We start our tour through the Wadi Washawir area. By afternoon we reach Wadi Washawir, from where we drive through a rugged landscape to the Moyet Ivlalha and to the Freia Valley, where we will set up our camp.
Day 3: After climbing the Kuhul Ridge we land in the Wadi Ma'atarshi and reach the entrance to the Coloured Canyon, a colourful ravine full of chiselled sandstone formations. From here we go by camel to Bir Biria Oasis.
Day 4: We ride through a plateau of basalt and granite rock formations as well as big sand Dunes near Wadi Watir, before reaching Bir Sawra oasis. Our caravan strides through the Wide wadis to our campsite at the Moyet Sawara Oasis.
Day 5: We ride in a southerly direction past Jebel Burga. After the Ras al Galb Pass we cross the palm-filled Umm Ahmad oasis. We follow the granite canyon of Wadi al Ain, where we can have a quick dip. At Wadi Zarnich we see gravesides of the Nabateneans dating to 400 BC. We spend the night at the foot of Mount Burga.
Day 6: We reach Ain Khudra oasis where we come across resident Bedouins. We continue over the Hmeidat Ridge to the entrance of Wadi Ruhbia, where we will stay overnight.
Day 7: We climb Jebel Umm Leikhas (946m), which resembles a moon landscape. Via Wadi Shamghi we reach the asphalt road from where the minibus will take us back to Dahab. Relax at the sea, either swimming, diving or snorkelling.
Day 8: Transfer to airport. Return flight.
This tour can be adapted to suit individual requirements and may vary from the set program depending on the guide, group and climatic conditions.
Info
Groups who wish to arrange their own custom planned safaris, contact us with group size and preferred itinerary for a quotation.