Camel Safaris
---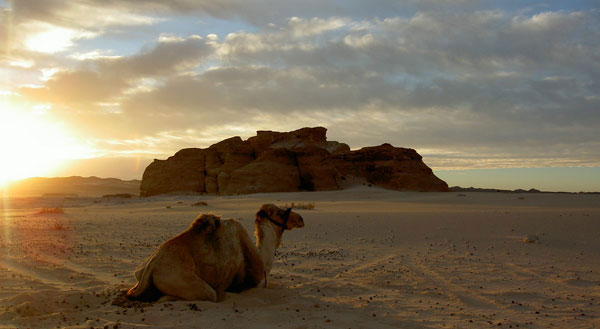 Trekking and Camels
Trekking in The High Mountain Range of Sinai this tour is a trek on foot in the area around the Sinai. Food and equipment are carried on camels' backs, form one night camp to the next.
A trek in this region is a unique experience that combines Bedouin population, and a visit to one of the holiest sites of the world's major monotheistic religions.
More and more western travellers are beginning to roam through out Sinai Peninsula in vehicles. But the mountains area is UN Penetrable by vehicle and have therefore remained relatively unexplored. This is a riding tour on camels in the area of south Sinai between the Gulf of Aqaba and the Gulf of Suez crossing the high mountains range of Sinai.
Riding through this region includes climbing beautiful mountains and hiking through lovely wadis. All routs are un penetrable by vehicles and therefore it has a very special atmosphere that you can never have in any region. We frequently leave the prescribed rout to travel along new trails, seeking out beautiful scenery, archeological sites and Bedouin encampments many of them never visited by westerners. A Bedouin mountain guide with an intimate knowledge of the region assists us on hikes. Along with the camel riders, enables us to become better aquatinted with the Bedouin lifestyle.
Multi-day Camel Safaris
---

A three days safari exploring the valley of Wadi safra, the mountain of Jebel Maghroum and the big sandy dunes.
Read More...

Find the beauty of the Sinai mountains, hiking or climbing through the highest area in Sinai, with highs from 2205m Gable Abu Gassab, 2285m Gable Mt Sinai and 2389m Jebel Abas.
Read More...
---
Wadis, Jebes and oasis - Discover the geology and formations of the land in areas of untouched, natural beauty. Follow time crossing routes and trails. Track down the sights into the history and culture of the region.
Read More...
---

This tour include three days ridding your camel deeper and deeper into the desert, visit the monastery of St Catherine and finish your trip relaxing and snorkelling in the pristine waters of the Red Sea.
Read More...
---
Discover Sinai from inside. The camels and Bedouin will drive us to the most quite places at Sinai.
Read More...