Nawamis
---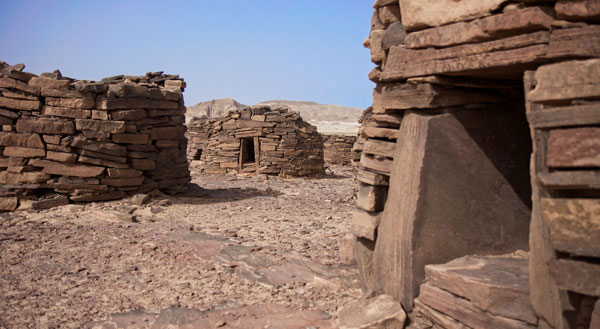 Wonders of the Past
Nawamis are enigmatic burial chambers of the early Bronze Age.
A very creative Bedouin legend says that they were build as protection against mosquitoes (nawamis) by the Israelites of the Exodus.
Today, it is agreed that these round burial chambers were built by unknown nomadic pastoral people living in the area of central and south Sinai. This theory is confirmed by a wide range of burial offerings found in the Nawamis. These offerings include beads, mother of pearl pendants, arrowheads and bracelets made of lambis-shells.
The well preserved silhouette of the Nawamis crossing the horizon of the arid areas of the mountains is a sight not to be missed.
This beautiful cultural site is easily combined with the desert dune of Gabril Barqain for a day trip, or as a multi-day trip in the St Catherine area.