Trekking Safari Dunes
---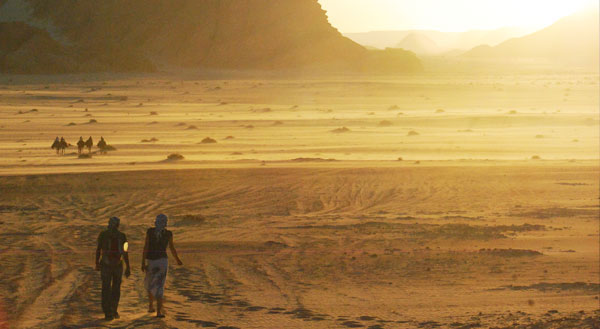 Sinai Dunes
Nothing better than relax and meditate during your holidays. Discover the Sinai, leaving the camels and the Bedouin people drive you to wonderful places. Riding from valley to valley, reaching the sole of the desert and feeling one with the environment. It's your chance of became a Bedouin, live like one and during this journey forget all your troubles and just enjoy the sand. The desert of Sinai will always give you more than you think, just embrace it!
Day 1: Arrive in Sharm el Sheikh airport, transfer to Dahab, overnight in hotel
Day 2: Early morning transfer to the camel meeting point in Wadi Hammam. After loading the camels and a brief introduction in camel riding, we ride through the Wadi Hammam. After a picnic we carry on until we reach our campsite under the trees.
Days 3: Our camels take us through various wadis, amongst them Wadi Safra, where sandy dunes meet sandstone formations. We reach the foot of Jebel el Barraga where we will spend the night under the starry sky.
Day 4: After a generous breakfast we trek through the Barraga Canyon and further Through Wadi Safra. This is where the annual camel races of the Muzeina Bedouin tribe are Held. We lunch in this sandy desert and then continue to the Nawamis, the old stone dwellings of the sinai first settlers. Our caravan continues through the sandstone mountains to Wadi Kery, where we will spend the night.
Day 5: We ride through Wadi el Ghazzala and cross over a mountain range, continue Through Wadi Ghazzala until we reach our evening's destination of Wadi Khudra.
Day 6: we ride through the Wadi until we reach the Ain Khudra oasis, where we meet Bedouins, drink tea, eat Bedouin brad and our lunch. We walk through the White Canyon by Foot, meet up again with the camels and ride to the "Rock of Inscriptions". At the end of the Day we leave of our camels and drive back to Dahab. Overnight in hotel.
Day 7: Is spent relaxing at the sea in Dahab. Possibilities for swimming, snorkelling and diving. Optional outing to the famous Blue Hole. Overnight in hotel.
Day 8: Transfer to airport. Return flight.
This tour can be adapted to suit individual requirements and may vary from the set program depending on the guide, group and climatic conditions.
Info
Groups who wish to arrange their own custom planned safaris, contact us with group size and preferred itinerary for a quotation.