Sons of the Desert
---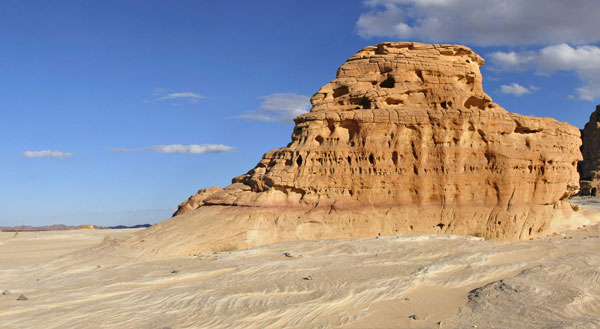 One week by Jeep through the Sinai Desert
Day 1: Arrive in Sharm el Sheikh, overnight stay in 3-star hotel.
Day 2: Early in the morning we leave Sharm towards Abu Zenima. We drive our jeeps straight through the desert and the wadis until we reach the Bedouin village of Serabit el Khadim, where we will spend the night.
Day 3: Hike the Serabit el Khadim mountain (755m) and visit the ancient Egyptian Temple of the goddess Hathor. Visit the turquoise mines in Wadi Baala. Our drive continues Through Wadi el Ramla and we visit the holy gravesite of Sheikh Hebus and "The forest of Columns". Later, we cross through Wadi El-Seih and Wadi Mekattub to Wadi Feiran, the biggest Oasis in the southern Sinai: 10'000 palm trees! To finish the day we will arrive to the St. Catherine's area at nightfall and stay overnight with the Bedouins.
Day 4: Early morning (2:00) we climb up Mount Sinai (2285m) to enjoy the sunrise. After, we will have time to visit St. Catherine's Monastery. Our drive continues to the Blue Mountains and through Wadi Arrada where we can see rock engravings. Overnight.
Day 5: A walk through Wadi Arrada followed by driving through the Wadi Safra and Jebel Burga areas. We look at the Nawamis stone dwellings. Drive through the spectacular Coloured Canyon. In Nuweiba we can swim before return to Dahab in the Evening.
Day 6 and 7: Free days in Dahab in a 3-star hotel with private beach. Possibilities for diving and Snorkelling.
Day 8: Transfer to Sharm airport. Return flight.